Made possible with The National Lottery Heritage Fund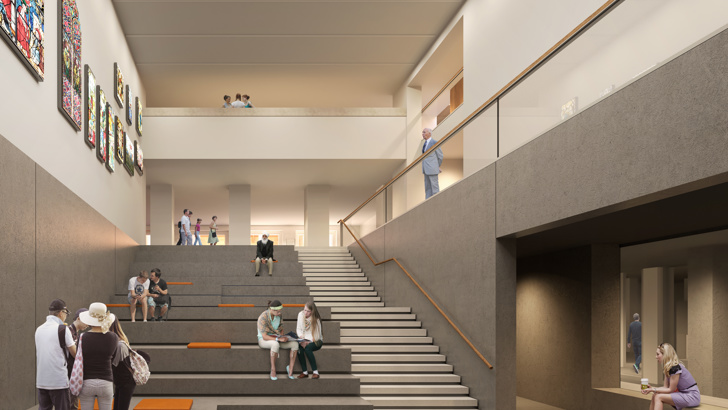 The Burrell Collection refurbishment and redisplay is made possible with The National Lottery Heritage Fund.
Thanks to National Lottery players, this wonderful Collection and its architecturally significant home are safeguarded for the future.
That crucial support has helped provide the opportunity to carry out the largest community consultation project ever undertaken by Glasgow Life Museums, gathering views from 15,000 of you on what you would like to see in the refurbished museum and what would make a visit special for you.
As a result of the feedback received, The Burrell Collection and its beautiful setting in Pollok Country Park will offer a fantastic experience for all: from the innovative and immersive displays reinterpreting the works of art, to the many wonderful and new stories to tell about them, to the new cafe with outdoor seating, the playscape for young children and the range of accessible facilities, including two Changing Places toilets. All of this will create a day out destination not to be missed.
"It is very exciting to think of the Burrell's doors re-opening on this incredible art collection. "Our major award of £16.5m was given in recognition not only of the importance of The Burrell's stunning collection and architecture, but also because of the creative and inclusive design approach taken by Glasgow Life, with over 15,000 people sharing their ideas and collectively helping to create the new displays. "We should applaud the effort of each and every one of these people as we celebrate the news that this much-loved cultural icon will be re-opening this coming March."
When the museum re-opens, over a third more gallery space will allow us to show you important and unique objects, which have not been seen for decades or have never been on permanent display.
For the first time, you'll be able to explore all three floors in the building, through dynamic galleries and displays, special exhibition spaces and the storerooms on the lower ground floor, where you can learn how objects are cared for while not on display.
A new outdoor space for events and activities and the outdoor café seating will mean you can enjoy the museum's beautiful parkland setting more than ever before.