Plan your visit
All the information you need to make the most of your day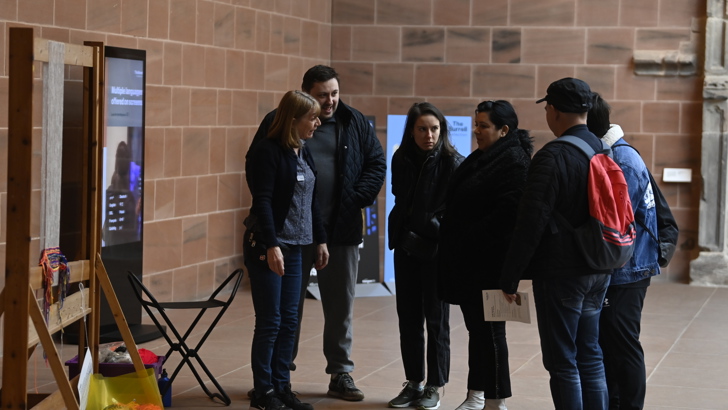 Opening hours
Monday-Thursday and Saturday: 10am-5pm
Friday and Sunday: 11am-5pm
Monday-Thursday and Saturday: 10am-4.30pm 
Friday and Sunday: 11am-4.30pm
Last orders are at 3.30pm daily, after which a selection of sandwiches and cakes are available.
Getting here
A free electric shuttle bus operates in the park. The bus runs 7 days, 10.00am-6.15pm in a 20-30 minute loop, linking the park entrance at 2060 Pollokshaws Road to The Burrell Collection and Pollok House. The bus has wheelchair access and capacity for one wheelchair at a time. Dogs are allowed on the bus, subject to capacity, with priority given to assistance dogs.
Please note, only assistance dogs are permitted inside The Burrell Collection.
Pick up at Pollokshaws Road entrance is at the following times:
10:00, 10:30, 11:00, 11:30, 12:00, 1:30, 2:00, 2:30, 3:00, 3:30, 4:00, 4:30, 5:15*, 6:15*
*Note these services leave from The Burrell Collection bus stop only and exit the park around 20 minutes later.
The main park entrance at 2060 Pollokshaws Road now has improved surfacing and separation between pedestrians, cyclists and vehicles. Through the restriction of car movement, pedestrians and cyclists can now also enjoy priority access on the main park routes including Pollok Avenue.
Pollok Country Park is an ideal place to visit by bike and can be easily reached by Route 7 and 75 of the National Cycle Network, which run through the park, or by using the local link routes. You can also visit by bike via the nearby rail and bus stations.
Visitors are welcome to make use of covered cycling racks in front of The Burrell Collection. Bikes and e-bikes will also be available to hire within Pollok Country Park as part of the NextBike Cycle Hire Scheme. The standard NextBikes are due to be installed in Spring 2022, with e-bikes in early Summer 2022.
Pollok Country Park and The Burrell Collection can be accessed by car at 2060 Pollokshaws Road, via junction 2 of the M77. The postcode for the museum is G43 1AT.
Access to Pollok House is via Dumbreck Road, near Junction 1 of the M77.
Car access into and around the park has changed: please note there is no longer access through the middle of the park for cars.
There are two public car parks, The Burrell Collection Car Park via Pollokshaws Road and The Riverside Car Park at Pollok House via Lochinch Road. Routes to both car parks are signposted.
Please also note that National Trust members cannot park in The Burrell Collection Car Park for free. If you are a National Trust member, free parking is available in The Riverside Car Park for Pollok House.
**Parking charges have increased**
Glasgow City Council is increasing parking charges across the city as part of the Council Budget Announcement for 2023/2024.
The new charges will apply from Sunday 2 April at all Council-owned pay and display car parks, including those in Pollok Country Park at The Burrell Collection, the Riverside car park for Pollok House and Nether Pollok.
Blue Badge parking will remain free in all car parks, subject to display of a valid permit.
Find more information on the Council website: https://glasgow.gov.uk/index.aspx?articleid=29393
Accessible parking bays are provided in front of the museum and parking is free for blue badge holders. Please ensure the badge is prominently displayed. There are 19 bays specifically marked. 
Parking charges will apply as follows:
• Monday-Sunday 10am-6pm
• £5 for up to 4 hours
• £10 for all day
• Pay with cash (coins only) via Pay and Display machines or using the RingGo app (see signage for instructions)
You can download the RingGo app before you travel here.
Please be aware we cannot guarantee parking spaces will be available and once the car parks are full, park staff will redirect cars out of the park.
The EV chargers will be operational from 2023.
Floorplan
Download the floorplan for all the details on the new galleries, dining options and other visitor facilities.
Accessibility and visitor facilities
Access to the building has been improved with two additional entrances, including the new main entrance with step-free, level access from the car park into the ground floor of the building.
The new central hub, with stairs and lifts in the middle of the building, provides access to all three floors.
Digital displays have been introduced with the use of BSL, captions and 10 languages.
Manual wheelchairs are available to borrow from the reception desk, on a first come, first served basis.
A hearing loop is available: instructions to access are available from reception.
Only assistance dogs are permitted inside the building.
The Burrell is the first museum in Scotland with two changing places toilets, alongside 9 additional accessible toilets and an accessible lift.
The Burrell Collection shop has an inspiring range of products, many of which are exclusive to The Burrell and include pocket money priced items. We hope you will be enthralled and amazed with the range of products on offer that can't be bought elsewhere. There's something for everyone!
Baby changing
Baby feeding
Cloakroom
Free Wi-Fi
Quiet room
Fridge for medication on request
Water fountains
There are 5 indoor picnic areas within the museum, and visitors are welcome to bring their own food and drink to enjoy. 
Face coverings
The legal requirement to wear face coverings in indoor public spaces in Scotland has changed to guidance.
The Scottish Government has advised the public to carry on taking sensible precautions to further reduce the spread of Covid.
Throughout the pandemic, Glasgow Life's priority has been to protect its staff and the public. We are encouraging all visitors to continue following the Scottish Government's guidance and wear a face covering in all indoor communal areas of our buildings, unless you are exempt. 
Covid-19 remains a public health risk and you can catch it more than once, even if you have been vaccinated. By continuing to protect ourselves and others, we can help to reduce the spread of the virus and ease pressure on our health services. To keep up-to-date with the Scottish Government's Covid guidance, visit https://www.gov.scot/coronavirus-covid-19.