The School of the Burrells: School's in at The Burrell Collection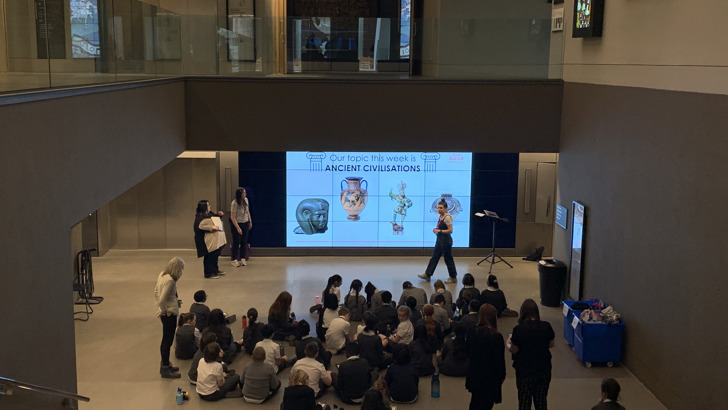 We recently had a really exciting week at the Burrell Collection when 39 Primary 6 pupils from St Conval's Primary School spent an entire week with us engaging in learning based around museum objects.
We've worked with St Conval's since 2017, as one of five partner schools who have helped us to shape our school programme, becoming a valued part of their school community in-turn. They were brave enough to try out this exciting new venture and find out how museum learning can engage all types of learners!
Working together, museum learning staff and teachers from St Conval's decided that the theme of Ancient Civilisations would work well to cover all the topics required for a week of learning. We also had great objects to support this topic, which enabled us to develop learning activities that met both the Curriculum of Excellence outcomes and learning points that the school wanted to achieve.
Each day the pupils met at school before walking together through the beautiful Pollok Country Park to The Burrell Collection. On arrival, a snack and quick introduction to the day's activities kicked the learning off before all pupils walked back to school together for pick-up time.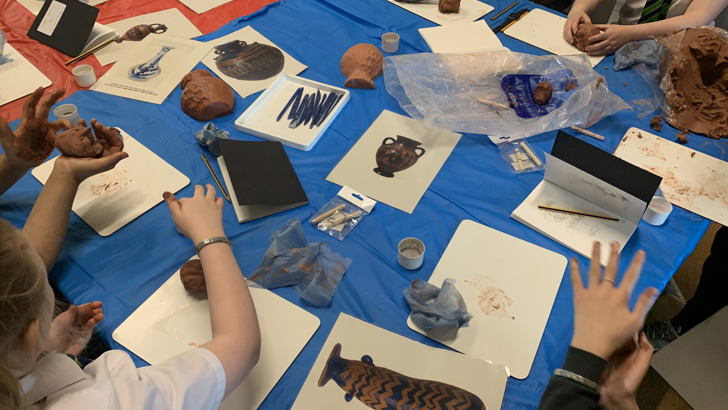 The week started with an introduction to the museum and to the topic. We used a timeline to help the pupils understand how far back in time we were going, which also gave us some time to learn about Sir William and Lady Constance Burrell.
Over the week the pupils:
Developed their creative writing skills by producing short plays in the style of a Greek drama based on Gods and Goddesses
Sketched and designed their own pots and vases based on our Chinese neolithic pots. They then worked on their english language and information skills by writing descriptions for their own museum label 
Competed in The Burrell Olympic Games, which had events such as "The Olive and Spoon Race" and "Balance the Golden Egg".
Worked as a team to escape a math-based escape room themed around Ancient Egypt
We were also excited to develop working relationships with the Pollok County Park Countryside Rangers, who developed and delivered two workshops based on our theme. Firstly, the pupils learnt about ancient dyeing techniques by foraging for natural materials and creating colour with them. These plucky museum explorers then discovered how to cook without electricity, just like their ancient ancestors! They learnt how to make a fire and cook vegetables al fresco. They also learnt how to cook Banana S'mores…but we aren't entirely sure they had those on the menu 2000 years ago!
Finishing the week off, the pupils invited their friends and family to The Burrell and they presented their work to them. They showed their confidence and presentation skills by giving a talk about their week and then performed their Greek Dramas. Our keeper – Dr Sam Gallacher, presented achievement certificates to the pupils to celebrate their week.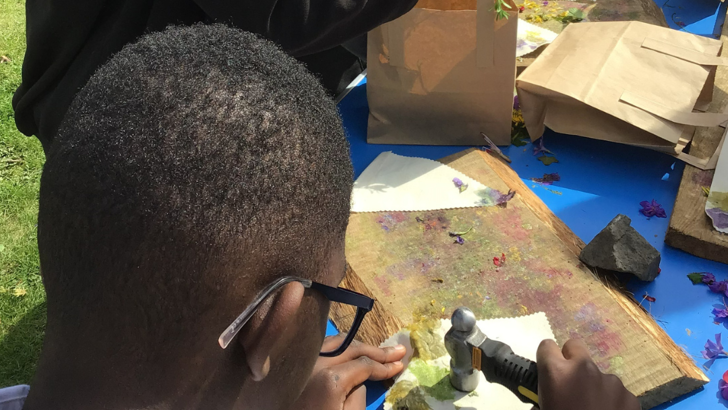 Feedback from the pupils has been positive. Comments include:
""The way I learned was through sketching items and taking notes which helped me understand the items there."
"We learnt about history, art and maths like we do in school but we learned about it differently."
"I loved the code cracking, there was even maths included in it, but it was fun!"
"The way we learned today was so different from school – we were round a campfire!"
"It was great to see things in real life and not just in pictures."
Learning staff from The Burrell will soon meet up with teachers from St Conval's to discuss how the time learning in the museum has benefited the pupils.
A massive thank you to all staff who helped to facilitate this, as well as the wider Burrell team for their support. Also, a big thank you to our restaurant partners Benugo, who provided hot food for the pupils and coffee throughout the week for the teachers. 
Finally, thank you to St Conval's for working with us and letting us use them as guinea pigs for this first week-long residency!