A small coin with an important history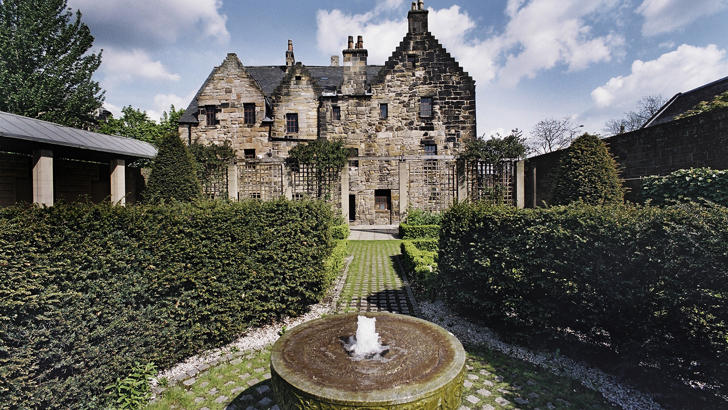 Curator of Scottish History, Dr Anthony Lewis tells the story of a small silver coin, known as a half testoon, from the reign of Mary, Queen of Scots.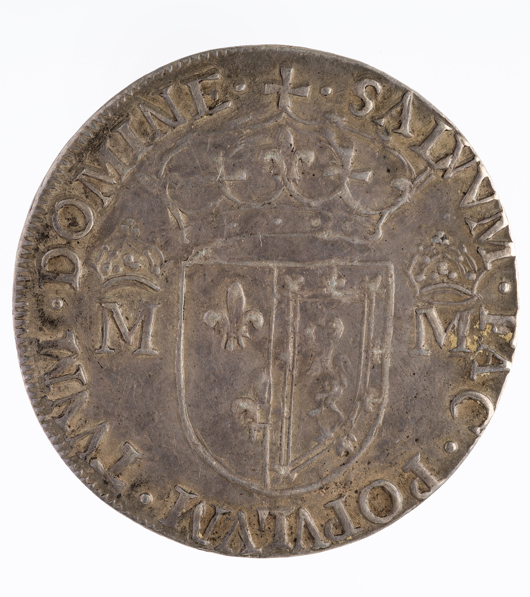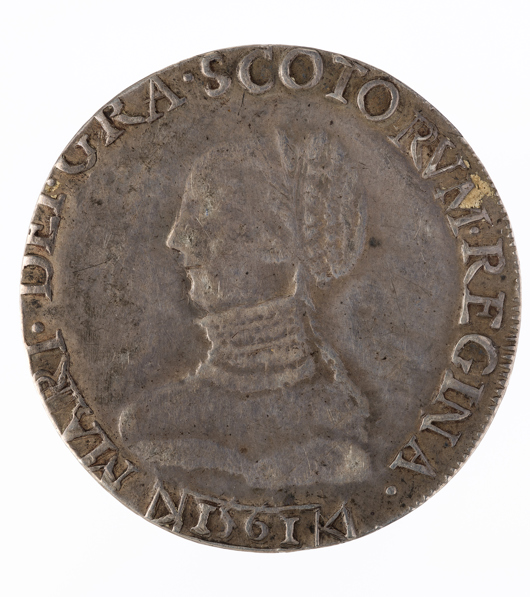 'We don't know when Sir William Burrell collected this small silver coin. It was minted in Edinburgh in 1561 to mark the first year of the personal reign of Mary, Queen of Scots (1542–87) in Scotland. Burrell's reasons for collecting it represents his obvious wider interests in history manifested in his historic room settings and collection. Although unique within his Collection, other museums have these coins.
On one side is a worn image of Queen Mary. Around it runs an inscription which translated says: 'Mary, by the grace of God, Queen of Scots, 1561'. The other side shows the crowned arms of Mary as Queen of Scotland and Queen Dowager of France, flanked by a crowned letter 'M' either side, around which is another inscription which translated reads: 'O Lord, save thy people.'
When new, this small-value coin represented the daily pay for unskilled work, but also the grand aspirations of a newly-arrived Queen to unite people and kingdoms. In 1558 Mary had married Francis, King of France from 1559–60. This explains why one side of the coin represents the arms of Scotland and France with the two crowned initials – Mary was queen of both countries. Dressed in her finery, the coin presented Mary as the perfect monarch of Scotland and France.
Over time, the coin passed from owner to owner. When Sir William Burrell collected it, the coin was well-worn and dull. As history has shown, the union of the Kingdoms of Scotland and France that Queen Mary had thought of did not happen. However, she represented the union of two other kingdoms – of Scotland and England, and the creation of the Great British state.
As Burrell was not a noted coin collector, this coin is even more significant. It meant something to him. His houses in Glasgow and at Hutton Castle in the Scottish Borders clearly show his real interest in history. Private and public rooms were dressed and restored as historic settings. Burrell collected books about Scottish history and about Mary, Queen of Scots including 'The Historie of the Life and Death of Mary Stuart, Queene of Scotland' (1624).
He also collected more modern Scottish history books and had a large collection of books by Sir Walter Scott. This coin could represent his intersecting interests in Scott, as well as Scottish and British history. In Scott's novel, The Abbot, Mary looks at her image on her coin and bemoans her doom. Burrell followed the popularity of Queen Mary. In Glasgow this was evident in the Scottish history sections of the city's two huge international exhibitions of 1888 and 1901. These displays included objects linked to Mary's life and reign. Furthermore, Burrell was an important patron of the society maintaining Glasgow's oldest house – the Provand's Lordship, where Queen Mary stayed while nursing her husband, Lord Darnley in early 1567.
This coin may also have represented Burrell's deeper personal interests in Scottish history. He collected objects which followed a timeline, from late Tudor monarchs seeking a united Britain and then the Stuart monarchs who succeeded them to it on the Great British throne. As a Conservative politician, Burrell valued the British state and monarchy. Lastly, it also represented another of Burrell's lifelong special interests – money.'
Dr Anthony Lewis
Curator of Scottish History
Glasgow Museums
Below, watch a short film featuring Anthony Lewis telling the story of this coin, created to mark St Andrew's Day on Monday 30 November 2020:
Images

Top:
Header shows a view from the garden of Provand's Lordship, Glasgow's oldest house, where Queen Mary stayed while nursing her husband, Lord Darnley.

and The Mary Queen of Scots half testoon silver coin, minted in 1561 in Edinburgh.
Below:
'The Historie of the Life and Death of Mary Stuart, Queene of Scotland', printed in London in 1624.
and Dr Anthony Lewis, Curator of Scottish History, Glasgow Museums.