Burrell Blog: My favourite object with Caroline Currie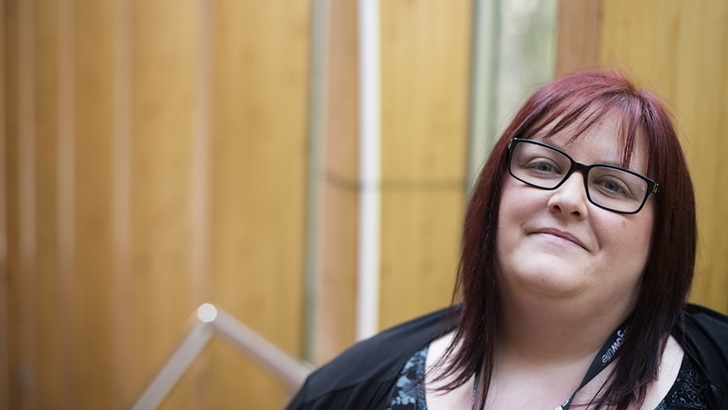 Welcome to the Burrell blog, where we will share insights from members of the Burrell Project team on their roles on the project, some of their work and what they love about their jobs - in this edition, we're catching up with one of our learning and access curators.
Figure of a Luohan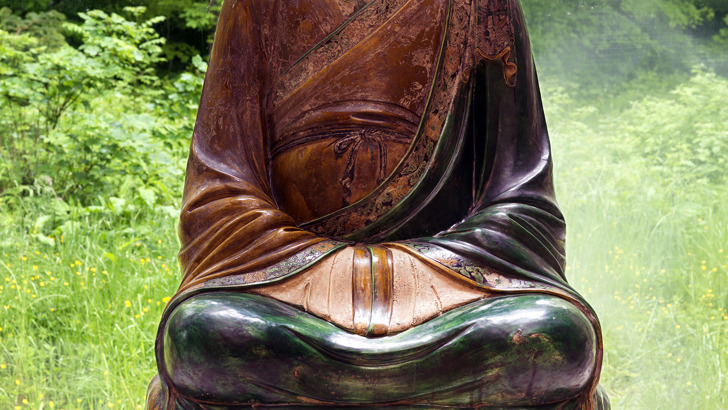 'With a collection of over 9000 objects trying to choose just one favourite is not an easy job. However, I must choose and I have selected Figure of a Luohan – a favourite in our collection of Chinese objects. 
This figure belongs to a group of at least four from the same temple, all inscribed with the maker's name. It was gifted to an unknown northern Chinese temple in 1484. The date of the offering was significant – a special and lucky day in the second month of the Chinese autumn, in August of that year. The priest Dao ji conducted the offering ceremony. 
This almost life-size, seated Buddhist Luohan (meaning disciple of Buddha) was made in that same year, during the Chenghua Reign (1465-1487) of the Ming Dynasty (1368-1644) at the imperial kilns in Jingdezhen, South East China. This Luohan is sitting in a meditation pose called zazen and is dressed in Indian robes known as kasaya, draped over the left shoulder. 
The Chinese word 'Luohan' comes from the Indian Sanskrit word 'Arhat' which means 'one who is worthy'. According to tradition, there were 16 Luohans who were close personal disciples of Buddha, who wanted them to remain alive in this world to enable us to be mindful, develop wisdom and understanding until the advent of Maitreya, the future Buddha. 
I really like this object for three reasons. Firstly I enjoy the fact that when Sir William Burrell bought this Luohan, it came from London by train accompanied by "a sensible man". The museum professional in me knows it would have been safe and secure in a crate however I am amused by the thought of the Luohan and that sensible man sitting enjoying the scenery on the train from London to Glasgow, maybe sipping some tea! 
Secondly, all my research into Buddhas tells me that the longer a Buddha's ears, the wiser they are. I like to share this fact with younger visitors who immediately compare theirs and their parents' ears with those of our Luohan. 
Finally, and most importantly, I find this object extremely calming and it does encourage me to be mindful. On a busy day, dealing with all the tasks working in a museum throws at you, taking a few moments to reflect and remember that we are all part of a bigger picture, is key. This object is so big that from lots of places in the Burrell it could be seen and for me, each time I caught sight of those long, flowing green robes and that peaceful, mindful expression it reminded me to stop, take stock and regroup and for that, Luohan, I am very thankful. 
I look forward to you coming back out of your crate next year.'
Caroline Currie 
Learning & Access Curator 
Header image: Caroline Currie
Other images show the Figure of a Luohan in situ at The Burrell Collection