My Job with Project Photographer Iona Shepherd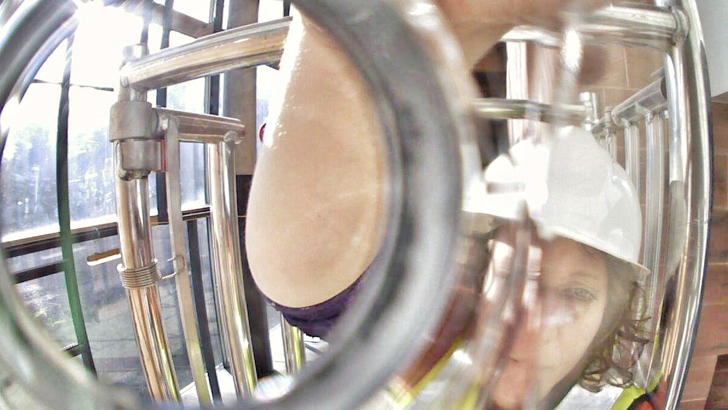 Burrell Project Photographer Iona Shepherd gives an insight into what her job involves in a typical week.
'I'm Iona, the photographer for the Burrell Project and I wanted to share with you a week in my regular working life. I am really privileged to be able to work in such a varied and challenging job, and really no two days are ever the same, but I'll take you through what might be an average week for me.
Most days start at my desk, checking on my emails. These will often include image requests from the Burrell team, our marketing department or the photo library. I will also get regular requests for new photography – perhaps asking for a certain detail of an object that hasn't already been captured for a publication, or maybe looking for a different view of the museum building. To set up new object photography, I'll usually liaise with our technical team to see if they can support me in moving objects, and also with our conservation department to ensure that I can capture each object at its best. If an object is due for conservation for a repair or cleaning, we work together with a schedule that means the photo captures the object after conservation and not before! At the start of each week I will also give the site manager a call to find out if there is anything happening at the Burrell site that week that I should record.
I usually work in the photo studio a couple of days per week with objects. It is my job to ensure that we have great images of every object, and these can range from large heavy bronze sculptures, like our Rodin collection, to tiny pieces of Egyptian amulets. Lighting museum objects can sometimes be tricky, particularly with ceramic pieces where I really don't want to lose any of the beautiful detailing in burnt out highlights. Silver can be pretty challenging to work with as it is so reflective, and the last thing I want to do is have myself reflected in its shape! I need to work really carefully with the handling and positioning of the objects as their care and safekeeping is our top priority, and so I'll sometimes have conservators assist me with that. It can be a long day on my feet, but the technicians I work with are amazing at bringing me objects to work on from the stores, and helping me carefully manoeuvre the heavier pieces.
The end of a studio day will be a welcome break for my feet at my desk (with a cup of tea!) where I'll accurately number and metatag the images for the digital asset management system and my documentation colleagues.
I will usually visit the Burrell site during the week, with a walk around the building photographing the progress of the construction work, and checking on my various timelapse cameras. This requires a hard hat and safety glasses at all times. Cold weather, the heavy gear and the need for a head for heights can be challenging with a camera at times. I love visiting the site though. I am really lucky to see the progress there, and excited for others to see the results at the grand unveiling.
I'll also spend a lot of time photographing the work our team are doing with local communities. I've met and photographed some really lovely people who are helping us work out our new content, from groups like the Amina Muslim Women's Resource Centre, the children at Pollok Nursery and Shawlands Primary School, the Wing Hong Chinese Elderly Centre and the Women's Needlework Group at Pollok Area Network.
My week may also include photographing exhibition openings or audience research events, and I'll also be sure to record our team working at the Glasgow Museums Resource Centre. Prior to lockdown, I had been creating weekly 'Behind the Scenes' photographs for our social media, covering the refurbishment project from the start – if you want to see more of this work, check out the Burrell Collection on social media at the links below.'
twitter #behindthescenes
Instagram using #behindthescenes