My Job with Stuart Lindsay from Kier Construction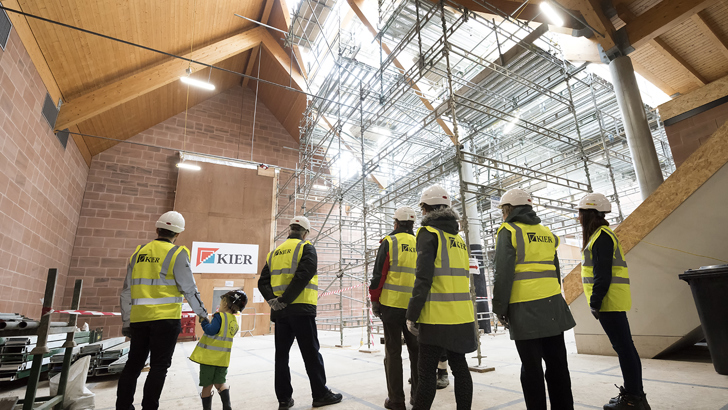 As Senior Site Manager for Kier Construction, Stuart Lindsay is part of the team responsible for refurbishing The Burrell Collection building. In this week's blog, Stuart fills us in on his role on the project.
'Hello, I am Stuart Lindsay, senior site manager for the managing contractor, Kier Regional Building, working on the Burrell Renaissance Project.
We are working with the Burrell project team on the refurbishment of the museum, which will have far-reaching benefits for visitors, including increasing the museum's public space and gallery space.
I started onsite in July 2018 as part of the management team from Kier. This core team consists of 6 staff and at any one time, we are managing up to 30 contractors onsite, carrying out various elements of the refurbishment.
The COVID-19 pandemic this year has significantly changed the way we work. The site had to be completely shut down for around 10 weeks earlier in the year, as part of the national lockdown. Since reopening, we have had to adapt to a new way of working to maintain social distancing, but the site team have risen to the challenge and we have the appropriate measures in place to ensure the site operates safely.
At present my job entails overseeing about 160 operatives, ranging from electrical services contractors to glaziers, stonemasons and plasterers. I need to know what is happening on the site all day, every day, so I work closely with the project manager Wallace Hume, and other site managers to plan and co-ordinate the workload in the most efficient way. Wallace works on our project plans about 3–4 months ahead of schedule and the site managers then work about a month in advance.
The team arrive onsite about 6:30am every day, where we have a team meeting and then liaise with our sub-contractors to discuss and review how works are progressing. It continues to be an exciting project to work on, with some unique challenges as it's an existing structure, but we have vast experience in being able to deal with that.
Recently, we have been undertaking various works, including Mechanical & Electrical fit out, replacing new roof lining and structures, and replacing the glass windows with new UV protected glass to limit the amount of harmful sunlight that would otherwise damage the museum objects.
The work has included new stone features such as floors and walls as well as rebuilding artefacts. We have also installed pre-cast concrete steps in a new, large staircase. Each section weighs several tonnes so I worked closely with the team installing them to create a steel lifting beam enabling us to move that kind of weight safely. Watching the four operatives winching each section in by hand was quite something – that requires real skill.
After a busy day doing our rounds on the site, I head back to the office at around 4pm to check my emails and sort any admin items. On Fridays, I get together with Wallace and the site team to review our plans for the upcoming week and establish site requirements.
I am looking forward to the day when the museum reopens its doors to the public – it will be a proud moment for us all.'
Stuart Lindsay
Senior Site Manager
Kier Construction
Images:
Images
Top:
Stuart taking a group on a tour of the building during Construction Doors Open Day in 2019.
Below:
A view of the building taken during summer 2020, showing much of the new glazing installed.
Stuart Lindsay on site in The Burrell Collection.