Events and activities with our Learning team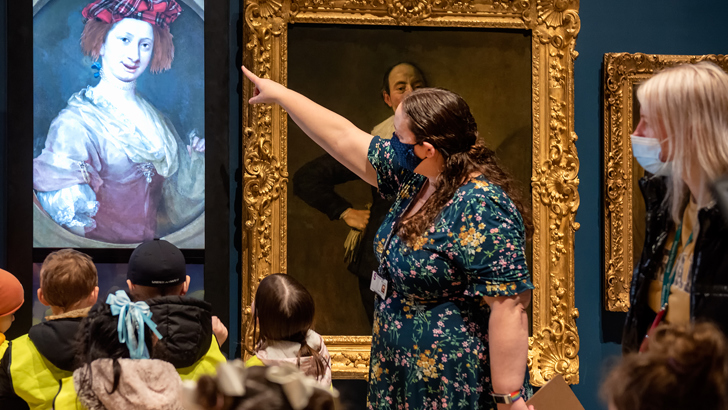 What's On in February
Join us in celebrating LGBTQ+ History Month with a free guided tour, discovering hidden histories within The Burrell Collection.
LGBTQ+ History Month Tours
Our learning team are working on a great range of activities for children and families and craft workshops and talks for adults, plus lots more!
The creative sessions designed for early years, families and adults will really bring the Collection to life.
You'll be able to enjoy activities like art sessions to learn more about how pieces are made or create your own masterpiece. Or become immersed in a storytelling session where the works of art take the lead role. 
There will also be volunteer-led tours and volunteer and staff talks, covering a wide range of topics relating to the Collection.
The wonderful setting in Pollok Country Park will also be an important part of the activity programme, helping you escape from the hubbub of daily life. Activities will include gentle wellbeing sessions linking the Collection to the beautiful green space that surrounds the museum.
In meantime, if you'll be visiting soon with children, download one of our fun trails below.
For things to do at home, why not try out our cross stitch patterns for download below or check out The Burrell Collection Talks series and the team's tips for health and wellbeing on Glasgow Museums Youtube channel
Burrell Trails
Have fun on your next visit with one of our Burrell Trails, exploring the new galleries and this amazing collection!
You can download each of the trails below in pdf format.
Cross stitch patterns
Have a go at these beautiful cross stitch patterns inspired by Burrell objects.
Get involved!
The learning team is committed to giving you a chance to really get involved in The Burrell Collection. Over the last three years, great partnerships have been made with many groups who have been involved in lots of different projects to develop the new displays and the activity programmes for reopening.
These partnerships have helped develop a range of resources and informed object selection and interpretation, including:
Handling boxes
Three local groups worked with the learning team to each create a handling box of museum objects. Each group made decisions about the design of their box and its name, the items to be included and how information would be shared about the objects.
The team really enjoyed working with the following groups to develop these boxes: Pollok Children's Centre, Amina Muslim Women's Resource Centre and Southside Housing Association.
The boxes will be an excellent resource, which the team will use in their community-based work across the city and in the museum for years to come.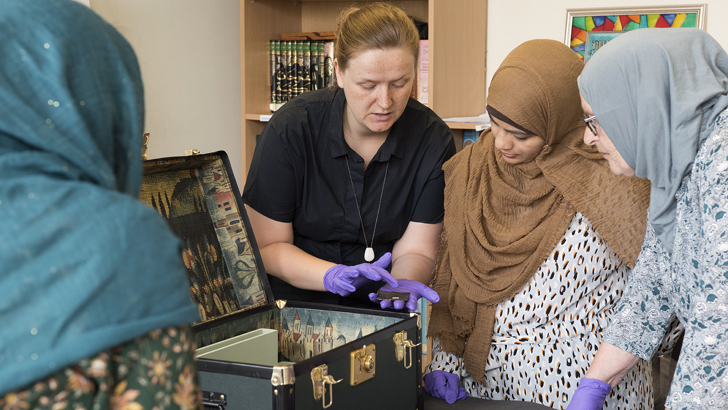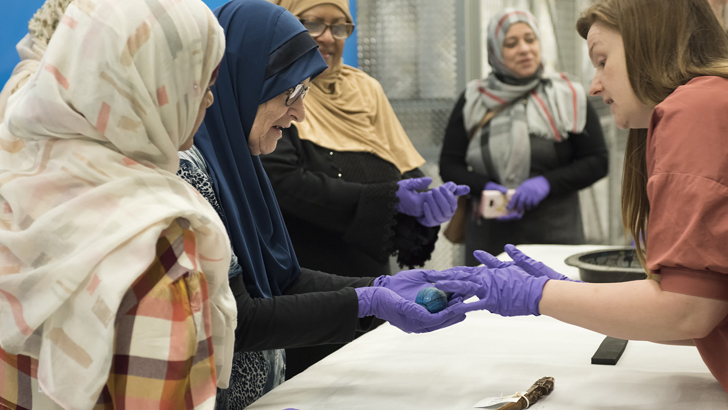 Southside Showcases
The project team worked with three local groups to co-produce display cases at Pollok Civic Realm, the local community hub.
Shawlands Primary School's Museum Committee, Pollok Craft Club and Pollokshaws Area Network's needlework group, each worked with a team including staff from different parts of the project to select real Burrell objects, write interpretation and design each case to meet The Burrell's high accessibility and display standards.  You can see the fruits of each group's hard work in the Community Museum at Pollok Civic Realm.
A small selection of the objects chosen and the interpretation written by the groups will feature in a future exhibition at the museum.
Community Collaborations
The team worked with 17 different groups on 13 displays for the museum, focusing on sharing diverse histories and involving audience groups who previously were under-represented in The Burrell Collection's visitor numbers.
The groups have shared their own insights and life experiences in relation to the objects and in turn, have learned a variety of new skills.  We can't give too much away just now about what the displays will be, but some of the groups we worked with include: LifeLink, LGBT Health and Wellbeing, Interfaith Scotland, Glasgow Women's Library and Wing Hong Chinese Elderly Centre.