My Favourite Object with Rebecca Quinton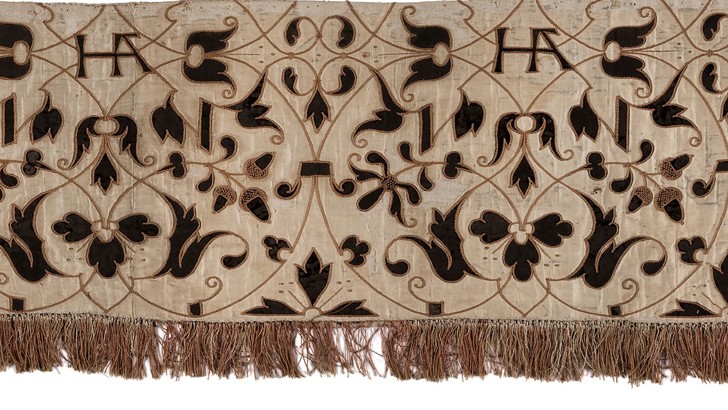 Research Manager Rebecca Quinton tells us more about this beautiful silk and linen valance with Royal connections.
'As a curator it's hard to have a single favourite object, but there is one that I find particularly intriguing; a pair of valances that once belonged to Henry VIII, King of England (1491–1547), and his second wife, Anne Boleyn (about 1501/7–1536). Made in silk and linen in 1532-36, they were purchased by Sir William Burrell on 20 June 1933 from the London-based dealers, Acton Surgey, as part of a collection of Tudor textiles from Kimberley Hall, Norfolk.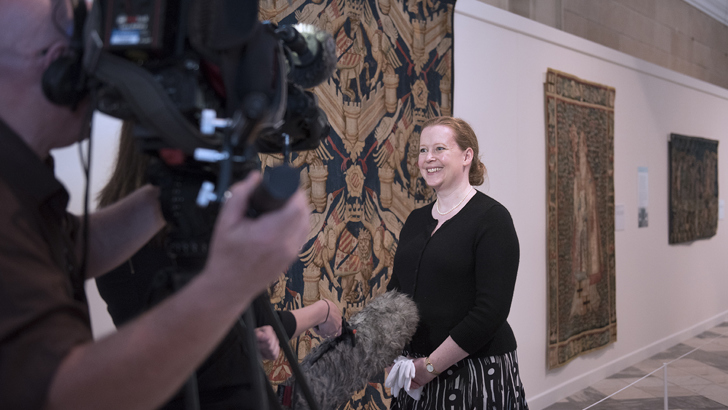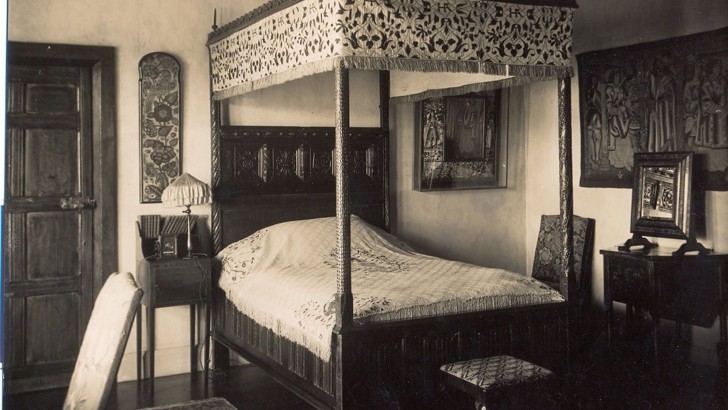 Each is made from light cream silk satin with an arabesque design in black silk velvet appliqué that incorporates the cypher 'HA' for Henry VIII and Anne Boleyn with their personal motifs of acorns and honeysuckles. The pairing of acorns and honeysuckles seems to have been a popular choice for the royal couple as later inventories include various similarly decorated textiles, including 'One Cushion of Needleworke on both sides with silke & gould the side with a Traile of HA of Venice gould and Venice silver honysuckles and Acrons of silke' in The Inventories & Valuations of the King's Goods 1649–1651.
Due to the tragic fate of Anne Boleyn, with her arrest, trial and execution in May 1536, followed by Henry VIII's swift marriage to Jane Seymour, few items that belonged to her have survived. These valances are not listed in the Inventory of Henry VIII of England that was compiled after the king's death in 1547, suggesting they were disposed of before then. For many years it was suggested that the valances were made for a visit of Henry VIII and Anne Boleyn to Kimberley Hall in 1535. However, the royal couple never visited Norfolk. Their only royal progress together was to the West Country, including Wolf Hall, the home of the Seymour family. So, whilst working from home this month I have been trying to work out how the valances may have come into the possession of the Wodehouse family.
Tracing back the family tree it has been possible to find two links between Anne Boleyn and the Wodehouse family. Blanche Carey, the great-granddaughter of Mary Boleyn, Anne's sister, and William Carey, Gentleman of the Privy Chamber and Esquire to the Body of King for Henry VIII, married Sir Thomas Wodehouse on 16 June 1605. Could she have brought the valances with her as a family heirloom?
A more likely candidate though is Margaret Shelton who married Thomas Wodehouse of Kimberley in about 1541. Margaret was the daughter of Sir John Shelton (1476/7–1539) and Anne Boleyn (1475–1555), the aunt and possible namesake of Queen Anne. Anne was in charge of Princess Mary's household at Hatfield, while her daughters, Margaret and Mary, served in the queen's. Both sisters were court beauties, with Margaret getting into trouble for catching the eye of Sir Francis Weston and Sir Henry Norris. One sister even became the mistress of Henry VIII briefly in 1535, but historians differ as to whether 'Mistress' or 'Marg' Shelton was Margaret or Mary. Were these valances either given by Anne to Margaret as a gift or saved by Margaret after Anne's downfall as a memorial to her cousin?'
Rebecca Quinton
Research Manager: Art, Glasgow Museums

Images above
Top:
Detail of one of the valances
In text:
Research Manager Rebecca Quinton giving an interview at the opening of an exhibition of tapestries from the Burrell Collection, at Kelvingrove Art Gallery and Museum in 2017.
The pair of valances decorating a four-poster bed at Hutton Castle, the home of Sir William Burrell and his wife Lady Constance.