My Job with Curator Caroline Currie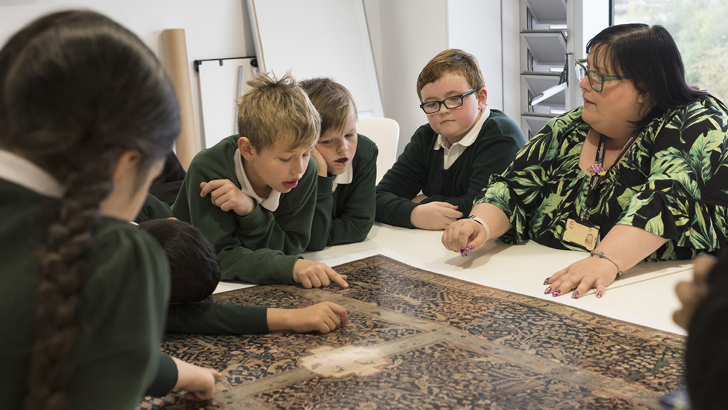 Learning and Access Curator, Caroline discusses her role on the Burrell project and suggests what you can do if you're interested in a career in museums.
What is your job on the Burrell Refurbishment Project?
I work as one of three Learning and Access Curators on the project. My job is to work with the whole team to make sure everything we are developing is right for the audiences we want to attract. I make sure there are lots of learning opportunities in the displays and that the displays, text on the walls and museum in general, is accessible. I also create and manage relationships with local schools and will eventually write all the school workshops that schools can book on to. Working alongside my colleagues we will develop the events and activities that visitors can take part in when they visit us. My colleagues Lucy and Allison do a similar job but focus on digital engagement and work with community groups.

Did you work in museums before the Burrell?
Yes I have worked for Glasgow Museums for 13 years. I started as a learning assistant delivering school workshops, family activities and adult events, which was a great grounding and start in the museum world. I then moved into my current job and have worked at various museums across the city, with my focus occasionally shifting from access to volunteering. Before that though, I was a Young Person's Assistant in Glasgow Libraries where I would spend most of the day reading to children!

Have you always been interested in museums?
Yes! I have always been fascinated by objects from the past and continue to be amazed at the objects we have in the collection from so long ago. Where else can you hold the lid of an Ancient Egyptian Canopic jar that once contained someone's intestines?

What advice would you give to someone interested in working in a museum?
Find something you love and be passionate about it. When people see your passion, it is catching and will make you stand out.
Don't be concerned if you don't have a qualification in museums. My degree is in Community Arts and the skills and knowledge I gathered from that course makes me ideal to use the arts to engage with people – exactly what my job is! And if you don't have a degree, it's no big deal, there are so many transferable skills from the workplace, vocational courses and real life that we need.
Volunteer. Most museums have a range of volunteering opportunities that need passionate people to fill them. You can develop and refine new and existing skills, at the same time as sharing your passion with people who love that niche subject as much as you. Having museum-based examples of your work experience for future interviews is always a bonus too. The museum also benefits from your volunteering, as a fresh pair of excited eyes on any project are always welcome!


Header image: Caroline working with a school group on tactile testing for the new displays in The Burrell Collection.