My Job with Digital Learning and Access Curator Lucy Armitage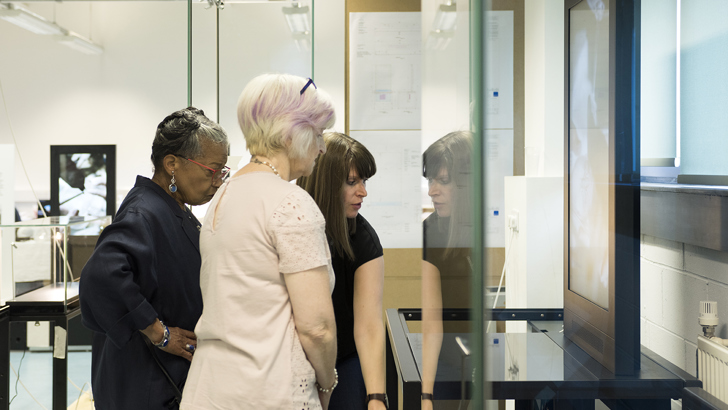 Find out how digital interpretation will enhance the experience for visitors to The Burrell Collection, with Digital Learning and Access Curator Lucy Armitage.
'I'm the Digital Learning and Access Curator for the Burrell Project.
I'm responsible for audience advocacy – creating learning and engagement opportunities for our visitors and improving accessibility through digital interpretation. The development of our digital content is based on a thorough understanding of the motivations, needs and priorities of our target audiences: early years children, families and adults. This ensures the visitor experience is engaging and relevant.
How digital can help tell a story
With a focus on the people who made, collected or used the objects in The Burrell Collection, we aim to bring the objects to life through a storytelling approach.
Digital sits alongside other types of museum interpretation such as object labels and it is important in enabling access to the breadth of the collection, including objects that are not on display. It can present the collection in a way that other types of interpretation can't facilitate. We are developing around 80 instances of digital engagement, including short films, interactives, large scale video and digital labels. This will offer visitors social, fun and creative experiences that are interactive, immersive and multi-sensory.
Developing digital content
I work closely with the digital manager to write briefs for these experiences, ensuring they vary in tone, scale and ambition, responding to objects as well as the physical spaces of the museum. To ensure the content remains factually correct we ask for curatorial input and all briefs respond to audience needs. For example, a group based hands-on interactive is good for a family audience looking for a collaborative experience. For young children we create fun ways of exploring an object through simple, familiar games such as shape or colour matching. Knowing that adults tend to like experiences that promote discussion we can explore objects from different perspectives through in-gallery films.
We then work with our own team and external contractors to develop these ideas. This process is often very interesting – writing detailed scripts for production or testing out cameras, screens and other technology, or we might be selecting actors and filming in a green screen studio!
Intellectual and physical accessibility is a huge focus, and so we work with our Visitor Studies team to carry out testing. We test from idea (concept) through to practical prototyping to establish user experience and how target audiences engage with the software and hardware. For example, all of our experiences are around three minutes long, as we know that people generally don't have patience for anything longer than that!
The digital experience at The Burrell
So, through digital we are revealing the makers behind many of our objects; bringing the Burrell family to life in the Glasgow they knew 100 years ago; revealing objects at large-scale to show unseen details; allowing visitors to 'make' virtual objects, and restoring long-lost details and colours to our objects.
My role in this is interesting, fast-paced, diverse, challenging, creative and collaborative. Digital is now integral to museums, widening engagement and increasing access. It provides experiences that can't be found in other places, revealing secrets, provoking questions and generating excitement. Come and visit when we reopen and see for yourself.'
Lucy Armitage
Digital Learning and Access Curator
The header image above shows Lucy working with members of the Glasgow Museums' Access Panel, testing some examples of digital display equipment. In the image below, Lucy is with a community group trying out a handling kit.