My Job with Filmmaker Debora Bottino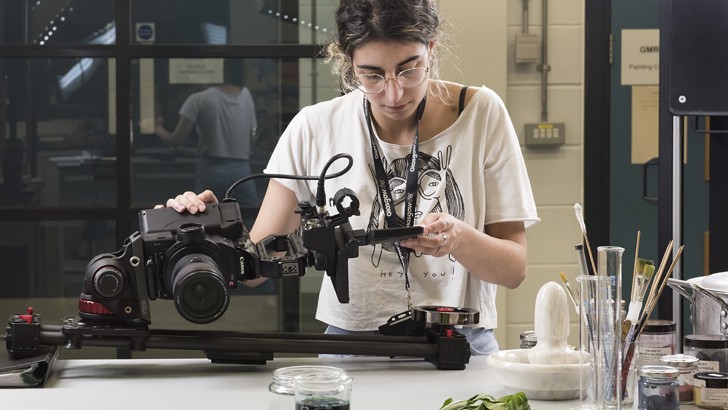 As a filmmaker on the Burrell Project, Debora is involved in creating a range of films as part of dynamic new displays for many of the objects and paintings in the collection.
'I work as a filmmaker for the Burrell Project, where I'm part of a team producing 30 films that will tell stories about many of the museum's objects.
Film offers a unique and immediate way to explore the collections and connect with our different audiences.
The first stage of filmmaking involves developing an idea for a film that will illuminate a specific object, or group of objects from the collection. This phase involves working closely with curators and the wider project team to direct research, discuss potential narratives and share examples of how film can tell stories.
Next, I start writing a script. Curators and Learning & Access curators play a significant role during this stage helping to identify the best way to address our audience. For documentary-style films, the script is generally a list of interview questions for the film's participants.
Many of the films we are making for the Burrell are documentaries – films that reveal the techniques used to create key objects. We film modern practitioners of ancient crafts – from stonemasons and glaziers to wood carvers – as they create items from scratch.
Finding collaborators is an exciting part of my role, I get to talk to people I normally wouldn't meet and visit new places – from a hermitage in the north of Scotland, to an ancient textile workshop in Venice. During this research stage, I visit potential locations, and take time getting to know the people we will film.
A documentary-style format isn't right for every film so we are also making some dramatised films. Pre-production for these usually lasts longer because I need to spend time finding actors, costumes and props that will appear on screen to help tell the story.
The last stage of production is the edit. Documentary films are never completely scripted as filming always brings new elements to the core story. The shape of these films often only fully emerges in the editing suite.
We work hard to make every film relatable, approachable and fun to watch.
Each film then goes through a vigorous review and testing process before we reach a final version. We gather feedback from curators, the learning and access team and our end users, discussing how each film can be improved. Sometimes small tweaks to an edit are enough to improve its impact. Other times, testing reveals that we need to simplify or amplify the core idea of a film to make the content truly compelling. This might mean removing some footage or we might need to capture additional footage.
No two films are the same and this is what makes my job refreshingly exciting.'
Debora Bottino, Project Filmmaker


Images
Below (and header):
Debora working on the capture of a behind-the-scenes film about the conservation of the Richard de Bury Chest.
The Richard de Bury Chest, made in England c. 1337-1340, so named as it is associated with Richard de Bury (1281-1345), Lord Chancellor and Bishop of Durham during the reign of Edward III.