My Job with Glen Cruickshank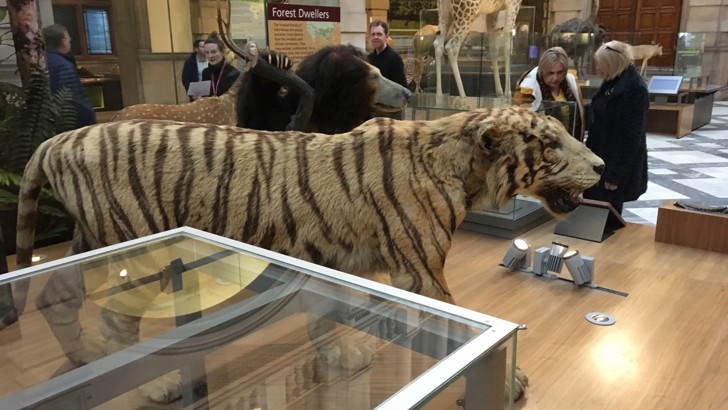 Digital Technician Modern Apprentice Glen Cruickshank, tells us about the work he has been involved in and what he has enjoyed most, since joining the Burrell Project in September 2019.
'I am a Digital Technician Modern Apprentice with Glasgow Museums. I work in the Digital Team of the Burrell Renaissance Project which focuses on all the digital elements that are being installed in the Burrell Collection. My job mainly focuses on the physical hardware and its installation into the building, working alongside the Senior Digital Technician, Stephen.
I started my two-year apprenticeship in September 2019. I applied as the idea of working within museums always interested me and the position of Technician suited my skill set. Also, the opportunity to work as an apprentice on an important project like the Burrell Renaissance seemed to offer a very unique experience.
As there is a large amount and broad range of hardware going into the Burrell Collection – tablets, touchscreens, projectors and video-walls, for example – the scope of the digital side of the project is impressive and I really enjoy contributing to it.
My way of learning is also a unique part of my apprenticeship. My apprenticeship is through an organization called QA which offers training classes to learn relevant skills and topics for your job. So far I've received training on using the Windows 10 operating system because a large part of the digital displays run on Windows hardware. I've also learned about network installation and management, with more training courses to attend in year two of my apprenticeship.
The QA classroom is only a part of my learning; the other half consists of on-the-job learning. Within the Digital Team I've learned many skills and learned a lot about what goes into the digital side of museums. As I had no experience in this field before starting, Stephen, the Senior Digital Technician, has been teaching me about the technician's role within Glasgow Museums and has already shown me a lot in the short time I've been on the project.
I have also been lucky enough to assist on other aspects with the Digital Team, like on-the-floor testing of certain digital aspects with the Visitor Studies curator and film shoots with the filmmakers. Also, with access to the Adobe Creative Cloud I have been able to learn programs that are used to edit footage, add subtitles to films or create interactive displays for either the Burrell Collection or other Glasgow Museum venues, which is something I've always wanted to dive into and learn but haven't had the opportunity until now.
I have really enjoyed my brief time on the project and being a part of the Digital Team, and I feel quite lucky to have the opportunity to be an apprentice on such an important project. I am looking forward to the rest of my apprenticeship and also to seeing the Burrell Collection when it reopens.'
Glen Cruickshank
Digital Technician Modern Apprentice
Header Image
A Visitor Studies group viewing display formats at Kelvingrove Art Gallery and Museum
Below:
Glen, Digital Technician Modern Apprentice