Upcycling Silks in the 18th Century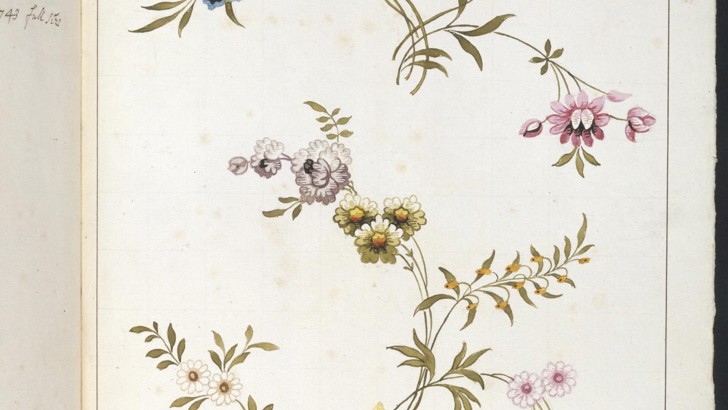 Curator of British Art, Dr Jo Meacock, tells us how her recent research on a painting in The Burrell Collection shows that upcycling is not just a 21st-century phenomenon.
Portrait of Antonina Willoughby by Nathaniel Hone, c1765
'Reuse, reduce, recycle. Today we are all more conscious of our consumption and how it affects our planet and how we can live more sustainably. Fast fashion is one of the biggest causes of pollution, with clothing ending up as landfill and chemical dyes poisoning the ground. We are being encouraged to mend old clothes, buy outfits from charity shops and hold clothes swap parties. Upcycling is not just a 21st-century phenomenon, as demonstrated by this delicate portrait of Antonina Willoughby (about 1765) by Dublin-born painter Nathaniel Hone (1718–84).
Antonina Willoughby (1735–1816) was the daughter of politician the Hon. Thomas Willoughby (1694–1742) of Walkeringham Manor, Nottinghamshire, and Elizabeth Rothwell, a wealthy heiress of Stapleford, Lincolnshire. She was the youngest of seven children and married the Rev. Henry Hewgill of Hornby Grange (1727–1804) in 1765, age 30, quite late in 18th-century marriage terms. He was lord of the manor and rector of Great Smeaton, Yorkshire from 1754.
This painting is thought to be her wedding portrait. The carnations on her dress are symbolic of love and the pearls around her neck and bodice and in her hair represent purity, as befitting a bride, but also sensuality and status. She wears a fashionable sack-back gown, or 'robe à la française', with flouncy cuffs, and her hair is styled in ringlets, pinned up behind. Perhaps surprisingly, this portrait, which is all about position and wealth, and which celebrates a marriage for which you would surely want to be seen at your best, is also evidence that upcycling was à la mode in the 18th century.
The floral silk Antonina wears actually dates from about twenty years earlier than the portrait itself. There is a book of very similar silk designs in the V&A collection, created by the textile designer Anna Maria Garthwaite (1690–1763) in 1743 for Mr Gregory, a masterweaver in Spitalfields. By the early 18th-century there was a seasonal fashion cycle for silks, which means that silk designs are fairly easy to date and often help art historians date portraits. However, special dresses with personal meanings, such as wedding dresses, were often unpicked and remade for later generations, hence this 1740s silk turning up in a 1760s portrait. The pleated robing at the front of Antonina's dress may well be a remnant from that earlier dress.
In terms of identifying where the silk came from, it wasn't from Antonina's mother's wedding dress, as she married in 1719. However, it could be another treasured silk, possibly from a different member of the family. We may never know who this was. Researching the lives of women from this time is fraught with difficulty. Nevertheless, it is inspiring to know that upcycling is not just a 21st-century fad. And if wealthy aristocratic women reused and recycled old dresses, how much more so did the ordinary working woman.'
Dr Jo Meacock, Curator of British Art
In memory of Renia Janas
Images below: 
Anna Maria Garthwaite, Design for a woven silk, 12 August 1743, watercolour on paper, Design Book, 1743, p. 77. © Victoria and Albert Museum, London, T.392-1971.
(Also shown in header image)
Jo with an upcycled dress made from Tanzanian fabric found in a charity shop. Dress pattern courtesy of Jen Keenan. Dressmaker Renia Janas.