My Job with Visitor Studies Curator Susie Ironside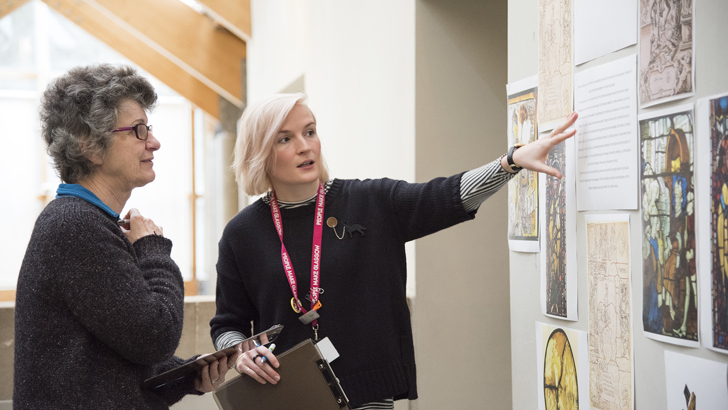 Welcome to the Burrell blog, where we share insights from members of the Burrell team on their roles on the refurbishment project. In this edition, we're catching up with Visitor Studies Curator Susie, on how she is working with different audiences to help shape The Burrell Collection.
'As part of our work on the Burrell refurbishment the team works alongside a range of different audience groups from across the city. Why? In a nutshell, we want to be confident that we are creating a museum that is engaging, welcoming, accessible and that feels part of the local community and the wider city. And the only way we know we are doing this is by talking to people – as much as possible!
Myself and my colleague in the Visitor Studies team are responsible for ensuring that we support our colleagues from across the project team to identify opportunities to do just that; talk to audiences who are familiar with the Burrell Collection, and those who are not yet so familiar with it. We test out things as varied as ideas for displays, including the stories we might tell and how we tell them, new innovations in digital, and specialist design elements that will be in the museum, such as accessible toilets.
How do we do this? Well, some of you reading this may have spoken to us about the Burrell Collection when you were visiting Kelvingrove Art Gallery and Museum or Riverside Museum, places we often test out our ideas as we know lots of families and children visit. In recent months you might have helped us test out some ideas we have for digital information screens or you might have given us some helpful feedback on some interactive displays we are working on. Some of you may have been invited to smaller sessions where staff from the project might have shown you clips of films we are making or text we have written for our planned displays and asked for your thoughts and ideas on them.
We also work with the Glasgow Museums Advisory Panels, who are our audience champions and include an Access Panel and two youth panels, the Junior and Teen Panels, both comprising children and young people from three schools in the city.
All of the ideas and suggestions we take back to our colleagues in the project team, and they are used to help us ensure we design a museum that is interesting, fun and accessible for as many different people as possible.'
Susie Ironside
Visitor Studies Curator
Images show Susie talking with different museum visitors