Islamic Carpet Displays
A fresh interpretation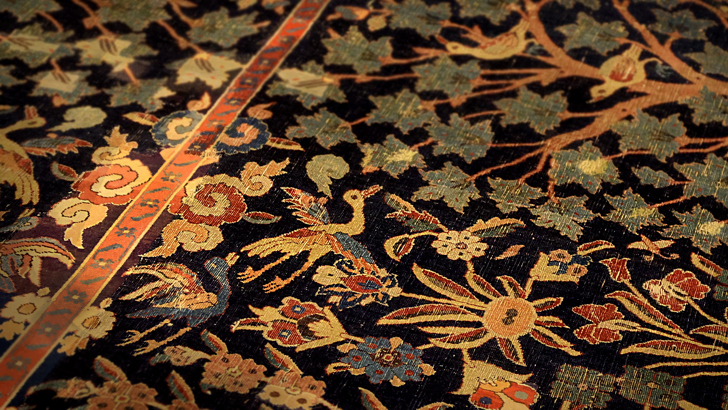 The refurbishment of the Burrell Collection has given us the opportunity to display a new selection of Islamic pile carpets from Sir William's collection of Oriental carpets and prayer rugs.
Dr Noorah al-Gailani on new approaches to carpet displays
New approaches for museum interpretation have been adopted based on a thematic approach to the whole collection. The Burrell carpets and prayer rugs feature in displays addressing themes such as the hunt in Islamic culture, heavenly gardens and earthly paradise, women's work, pilgrimage journeys and the technique of weaving pile carpets. Some of these thematic displays are juxtaposed with displays of non-Islamic material that look at related subjects, such as the Hunt gallery, which also includes displays relating to the tradition in Europe, with tapestries and other hunt-related objects. Such juxtapositions provide new opportunities to explore the traditions of the hunt in different parts of the world and at different time periods.
In the bedrooms at Hutton Castle, I would say, "That's a beautiful carpet, Sir William." "Aye," Burrell would say, "but there's a better one underneath; you'll find a better one underneath".
The carpets now on display include several iconic pieces that have not been seen for many decades, including the Wagner garden carpet, the Mughal grotesque animal carpet fragment, and the classic Persian arabesque carpet.
Burrell was keen for the artistic importance of his carpets to be recognized. In letters from 1948 and 1949 he urges Glasgow Museums' staff to prepare a souvenir booklet about them. The refurbishment has allowed us to realize his wish.
Glasgow Museums is publishing an introductory book, Introducing Islamic Carpets. This includes 46 highlights from the Collection representing the key types collected by Sir William Burrell and explores how he collected, used and displayed them. Divided into nine sections, it examines the types of carpets in the Collection and includes garden carpets; the arabesque design; the phenomena of the Persian carpet; the Mughal carpet tradition; animals in carpets – naturalistic and imaginary; carpets made for prayer; the Turkmen tribal tradition of carpet weaving; and a selection of historical carpet fragments that Sir William was keen to acquire. It concludes with three special carpets that demonstrate the exchange of influence and transition across the Islamic World.